There are three different interpreting modes: Simultaneous Interpreting, Consecutive Interpreting and Liaison (or Bilateral) Interpreting. Follow the chart below to find out which service is required for your meeting or event: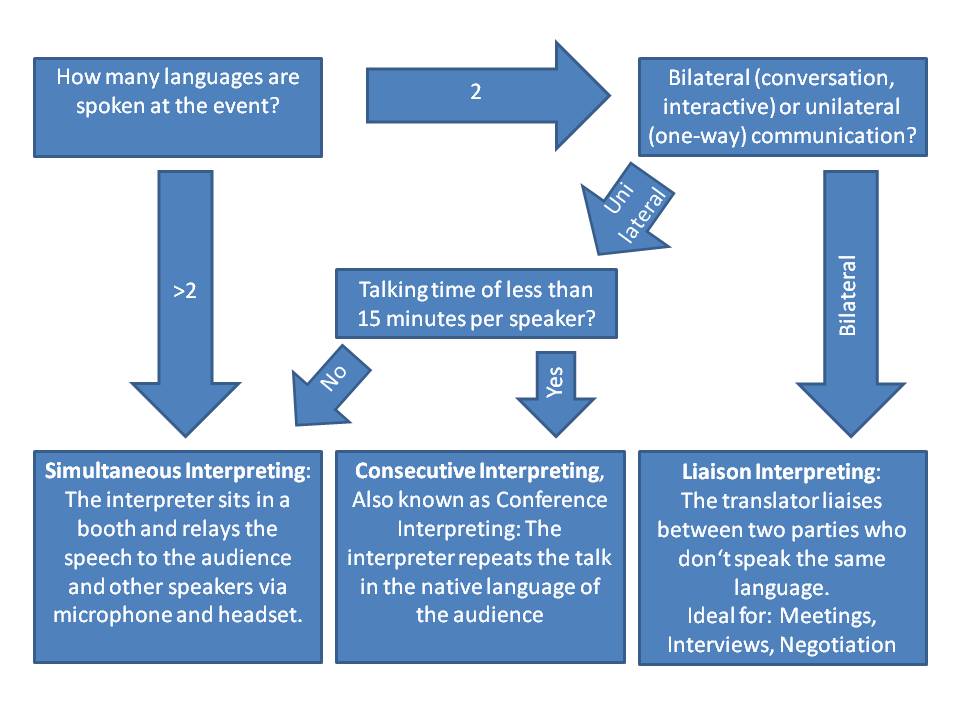 Find out more about the different interpreting modes here.
Equipment
For Liaison and Consecutive Interpreting, the interpreter brings the necessary equipment: a pen and a notepad. The client only needs to provide equipment for Simultaneous Interpreting. This can usually be hired or might be provided at the venue (a booth per language, headphones and microphones for each booth, headphone and microphone for the speakers as well as headphones and receivers for all guests).
Costs
Bookings are usually charged per hour of interpreting time and preparation and travel time as well as reasonable expenses will also be added to the bill. The rates applied depend on the working conditions, subject matter, travel requirements etc. As an Edinburgh-based translator, I can usually offer my services within the Scottish capital without extra mileage charges.
Specialisations
Legal matters: Supporting foreign defendants and their solicitors
Medical: Supporting patients and their families at the hospital
Commercial: Assisting negotiations
Environment: Discussing important topics such as global warming, renewable energies etc.
---
Get in touch!