If you would like to promote a video or audio file to a new target market, you usually have several options depending on your requirements. Follow the flow chart below to find out for which service you should get a quote: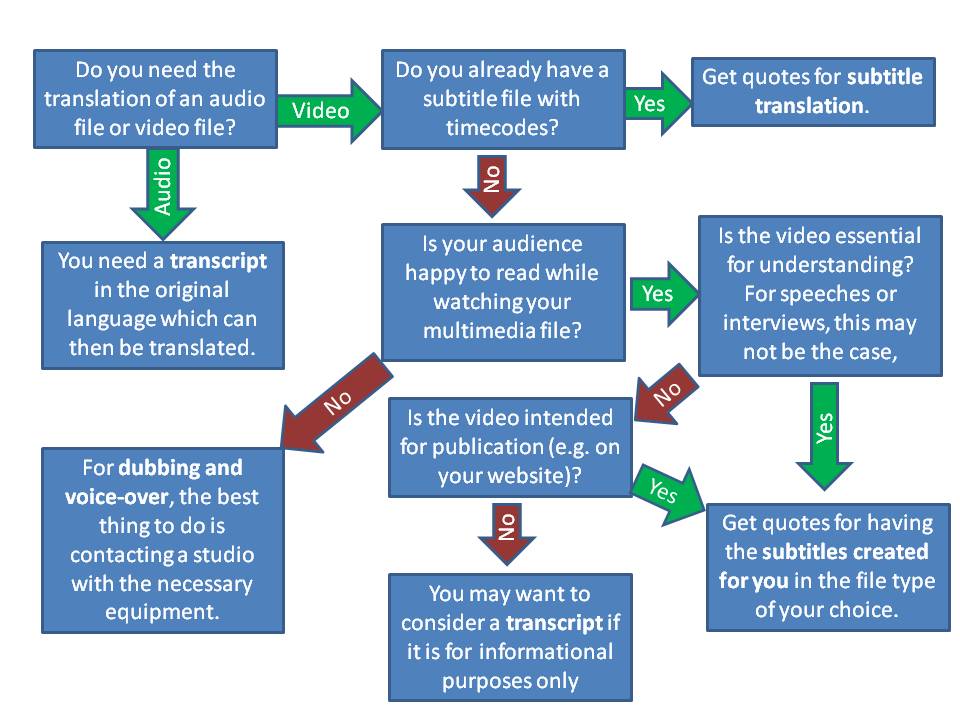 I am specialised in Subtitling and Transcripts of videos in various genres such as s musical/arts, documentary, interviews, instructive and marketing videos. I don't offer Dubbing and Voice-over services, but I can recommend reliable partners to suit your requirements.
Quality Assurance
Just like translations, all subtitle files are reviewed to ensure they comply with technical and linguistic standards.
Supported File Types include .txt, .sub, .srt, .sst, .ssa and many more.
SDH/Closed Captions
There are some special requirements when creating subtitles for the hard of hearing. They are usually in the original language of the multimedia file and are more detailed than translated subtitles. This type of subtitling is also sometimes used by language learners.
Pricing
Pricing is usually based on the number of run time minutes and depends on a variety of factors:
– Service required
– Quality of the material provided
– Whether or not a script is provided
– Whether a subtitle file (empty/in source language) is provided
---
Get in touch!